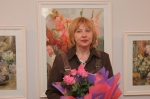 Sviatlana Kurashova was born in 1956 in Osipovichy (Belarus).
Studied at Arts studio of Valentin Pokatashkin.
Then - Vitebsk Pedagogical Institute, the Art department. Her teachers were Valentina Liahovich, Felix Gumen, Leonid Antimonov.
1990 – member of Union of Artists.
She works at water-color technique mostly in genres of still life, landscape and easel composition. Svetlana Kurashova participates the regional, republic and international exhibitions as well as art camps. She's a member of the Charity Creative Association "AE&M" (Art, Ecology and Me).
During a few years she was a head of Art Gallery named after G. Vaschenco in Gomel.
Her works are at funds of Svetlogorsk Art gallery named after Prianishnicov, Gomel regional museum, Mogilev Regional Art Museum, Gomel Art Gallery named after G. Vaschenco, Rechitsa museum and private collections of Germany, Estonia, Finland, USA, Canada, Israel, Italy and other countries.